111th Annual Dinner and Golf Outing
May 16–17, 2018 11:59 PM

---
Description
Important Note: Proceeds from the Annual Dinner & Golf Outing are used to fund the Traffic Club of Chicago Scholarship Program which distributes over $20,000 in Scholarships each year. To make this years event a success, please consider becoming an Event Sponsor or Advertiser!
---
111TH ANNUAL DINNER
Who's attending the 111th Annual Dinner?
Location
McCormick Place Skyline Ballroom
2301 S. King Drive
Chicago, Illinois 60616
Date & Time
Thursday, May 17th, 2018
General Reception: 6:00PM - 7:00PM in the Skyline Ballroom Foyer
Annual Dinner: 7:30PM in the Skyline Ballroom
Parking & Transportation
Click here to view Parking & Transportation details
Hotel Reservations
Don't wait, make your hotel reservation now! The Traffic Club has reserved a block of rooms at the Hyatt Regency McCormick Place at the discounted rate of $259 per night from 5/17/18 - 5/18/18. You can make your reservations online by clicking here! The cut off date for reserving rooms in the room block is 5:00PM on April 25th, 2018.
Pricing
Members: $165/person
Non-Members: $180/person
Full Table of 10 (Member Rate): $1,650
Full Table of 10 (Non-Member Rate): $1,800

No cancellations after Friday, May 4th, 2018
Note: If you would like a name badge printed for you and your guests at the Annual Dinner, you must inform staff of all names & companies by May 7th, 2018. Although registrations will be accepted after this date, name badges will not be created for those registered after May 7th.
---
GUEST SPEAKER
We are excited to announce the guest speaker for TCC's 111th Annual Dinner will be Justice Alan Page, Former Associate Justice of the Minnesota Supreme Court & NFL Hall of Famer!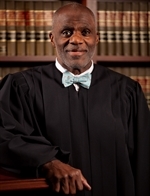 Justice Page served on the Minnesota Surpreme Court from 1992 until 2015 when he reached the mandatory retirement age of 70. He was the first African American on the court and one of the few associate justices ever to join the court initially through election, rather than appointment by the governor.
Law was Alan Page's second career; he was first known for his skills in football both in college and in the NFL. At Notre Dame, Alan Page led the school's storied football program to the 1966 national championship, and in 1993 he was inducted into the College Football Hall of Fame.
Alan Page was a first-round draft choice of the Minnesota Vikings in 1967 and he played for the Vikings until 1978. The last three years of his football career were with the Chicago Bears, 1978–1981. During his career, Alan Page played in 218 consecutive games, earning All-Pro honors six times, and was voted to nine consecutive Pro Bowls. In 1971 he was named the NFL's Most Valuable Player, becoming only the second defensive player in history to be named MVP. In 1988 Alan Page was inducted into the Pro Football Hall of Fame.
---
ANNUAL DINNER GOLF OUTING
Who's attending the Annual Dinner Golf Outing?
Location
Cog Hill
12294 Archer Avenue
Lemont, IL 60439
Date & Time
Wednesday, May 16th, 2018
Shotgun start @ 9:00AM **New this year!!**
All golfers must check in by 8:15AM
Tickets Include
Green fees
Golf carts
Course contests
Half-way house ticket
Networking BBQ from 1:30PM - 5:30PM w/ open bar
Club Rentals
If you will be renting golf clubs for the Annual Dinner Golf Outing, we recommend reserving a set before-hand by calling the Cog Hill Pro Shop at (630) 257-5872 ext. 318.
Rain Policy
The Annual Dinner Golf Outing will take place rain or shine. If the course becomes unplayable due to severe weather, rain checks will be issued upon request.
Pricing
Course 2 "Ravines": $160/person - SOLD OUT
Course 3: $150/person - SOLD OUT
Course 4 "Dubs Dread": SOLD OUT

No cancellations after Friday, May 4th, 2018
---
NARS 2018 ANNUAL MEETING
This year, the North American Rail Shippers Association (NARS) will be hosting their 2018 Annual Meeting in Chicago. Conveniently, the NARS Annual Meeting is taking place from May 16 - 18, 2018 at the Hyatt McCormick Place! This means any TCC member who plans to attend the NARS Annual Meeting will also be able to attend the 111th Annual Dinner, which will be right down the hall!
Note: You must register for these two events separately.
Click here for more details & registration for the NARS Annual Meeting
---
Questions? Contact Club Staff by email at staff@traffic-club.org or by phone at 630-529-1333.
«
Back to agenda