Upcoming events
About Us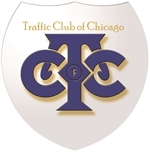 The Traffic Club of Chicago is your place to make connections with other dynamic supply chain and logistics leaders in one of the world's most vibrant transportation markets. Dedicated to providing you with insightful and relevant information about your business, the Traffic Club serves its membership with a wide range of programs and resources.
TCC Members
---
Become a Member
Do you work in the world of shipping, transportation, logistics, and supply chain? Join the industry experts and civic leaders who come together at the Traffic Club of Chicago to share common interests and promote the industry.
Club activities—topical presentations, informative seminars, sports outings and social gatherings—are valuable opportunities for career development, networking, and entertaining customers.
---
Annual Sponsorship
The Traffic Club of Chicago is happy to introduce its newest opportunity to reach transportation professionals... Annual Sponsorship!
This new program will simplify the sponsorship process and maximize your dollars. It will allow your company to sign up ONE time to receive visibility at all of the Traffic Club's many industry events. Check out the many different sponsorship levels at the link below.