Upcoming events
About Us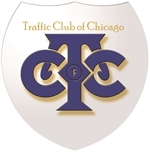 The Traffic Club of Chicago is your place to make connections with other dynamic supply chain and logistics leaders in one of the world's most vibrant transportation markets. Dedicated to providing you with insightful and relevant information about your business, the Traffic Club serves its membership with a wide range of programs and resources.
TCC Members
---
Become a Member
Do you work in the world of shipping, transportation, logistics, and supply chain? Join the industry experts and civic leaders who come together at the Traffic Club of Chicago to share common interests and promote the industry.
Club activities—topical presentations, informative seminars, sports outings and social gatherings—are valuable opportunities for career development, networking, and entertaining customers.
---
112th Annual Dinner, Golf Outing & Networking Lunch
Save the Date!

Don't miss the Traffic Club of Chicago's premier event! The 112th Annual Dinner will be held on Thursday, May 30th, 2019 at the stunning Skyline Ballroom at McCormick Place.

Don't wait, make your hotel reservation now! TCC has a room block at the Hyatt Regency McCormick Place. You can make your reservations over the phone by calling 312-567-1234. Indicate that you are with the Traffic Club of Chicago to receive the discounted room rate of $299 per night. The cut off date for reserving rooms in the room block is May 8th, 2019.

Is your company interested in hosting a reception prior to the Annual Dinner? TCC has reserved banquet space at the Hyatt Regency McCormick Place for this purpose. Please contact TCC staff at staff@traffic-club.org for more details.

Once again, Cog Hill will host the Annual Dinner Golf Outing the day prior to the Annual Dinner - May 29th, 2019. The Annual Dinner Golf Outing will be a 9AM shotgun start. After golf concludes, there will be a networking lunch from approximately 2PM - 6PM in the Pavillion Tent at Cog Hill. If you do not plan to golf, you can still attend the networking lunch!

We look forward to seeing you at these two great events!
---