Podcasts
The Traffic Club of Chicago is very excited to announce that our new Podcast series has begun! This new platform will be an opportunity for members and non-members to learn from masters who are shaping the future of supply chain and logistics in an ever-changing global marketplace. Join us as we take on "hot topics" with industry leaders preparing us for the challenges that the future holds. Industry leaders will include executives of shipping and manufacturing companies, economists, entrepreneurs and technology experts, to name a few.
This new series is part of our ongoing mission to supply our membership with insightful and relevant information about the industry, while using technology to grow membership and our brand awareness.
If you have asked yourself how can I create more value from my membership or meet cutting edge industry leaders, this is your chance to take advantage of what the Traffic Club has to offer.
Episode 1 - Randy Lewis, Retired Senior Vice President, Supply Chain & Logistics at Walgreens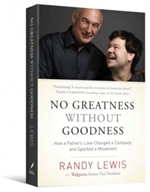 As Senior Vice President Supply Chain and Logistics at Walgreens, Randy Lewis bet his career that he could create an inclusive workplace at one of America's biggest corporations where people with disabilities could not just succeed but thrive. Randy designed and opened the first distribution facility of its kind to employ a significant number of people with disabilities (more than 40% of the workforce has a cognitive or physical disability.) Drawing inspiration from his autistic son, Randy has become a speaker and author on the topics of incorporating those with disabilities into the workforce.
Randy has created thousands of full-time jobs for people with disabilities. In his book, No Greatness without Goodness, he offers a firsthand account of what it takes to lead with courage in order to change people's lives for the better. Randy's motto is "What's the use of having power if you don't use it to do good."
You can find his book, No Greatness without Goodness: How a Father's Love Changed a Company and Sparked a Movement, on Amazon by clicking here.